SatVUE
Sensors & Integration.
Flexible Sensor & Integration Options
With up to 2* Analog, Digital or MODBUS I/O protocol inputs available, a broad range of sensors and/or devices can be integrated with the SatVUE system. This makes for the perfect solution regardless of the parameters you are required to monitor; water level, rain fall flow, soil moisture, leaf wetness, pressure, temperature, relative humidity, pH, DO, turbidity, EC, CO2, SO2, O2, volatile organic compounds, hydrocarbons, to name a few.
*junction box available for more inputs/outputs.
Here are just a few examples:
Sensors
Submersible Level Transducer
Submersible Level Transmitters measure the height of liquid above the position in the tank referenced to atmospheric pressure. The transmitter consists of a piezoresistive sensing element, encased in a 316 SS housing. Bullet nose design protects the diaphragm from damage.
Sensor Applications:
Well monitoring
Ground water monitoring
Environmental remediation
Surface water monitoring
Down hole
Water Tanks
---
Ultrasonic Level Sensor
High performance, ultrasonic precision rangefinders that provide high accuracy, high resolution ultrasonic range detection in air.
Sensor Applications:
Automated process control systems
Tank level measurement
Weather station monitoring
Bin level measurement
Environments with acoustic and
electric noise
---
Woltmann-type Flow Meter
A Woltmann-type meter is designed for measuring bulk flows of cold potable water for revenue billing in commercial or industrial applications and distribution system monitoring. Available in sizes 40mm to 300mm for flow rates of between 0.35m³/h and 2000m³/h.
Sensor Applications:
Metering / Revenue Billing (Commerical or Industrial)
Water Resource Management
Flow Measurement
---
Tipping Bucket Rain Gauge
Consists of a collector funnel with a leaf filter, an integrated flow control mechanism, an outer enclosure with quick release fasteners, and base which houses the tipping bucket mechanism.
Includes dual output reed switches with varistor protection as well as dual rainfall discharge outlets for water collection and/or analysis.
Sensor Applications:
Rainfall distribution and intensity
Catchment Monitoring
Flood Mitigation Programs
Hydrology
---

Pipeline Temperature and Soil Probes
The Pipeline and Soil temperature probes have been designed to ensure accurate, repeatable temperature measurements for pipeline hydrostatic testing during pipeline commissioning works.
Sensor Applications:
---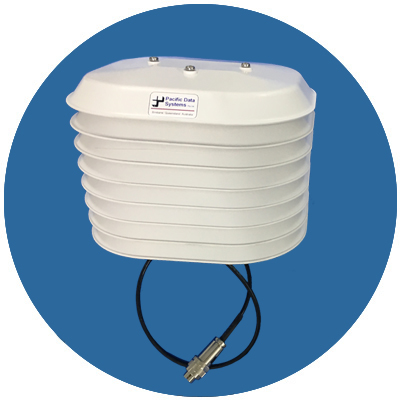 Ambient Air Temperature / Humidity
Typically a resistive temperature device (RTD) / thermocouple for temperature, or capacitive humidity sensor housed within a radiation shield. This shield prevents direct sunlight from reaching the sensor (prevents radiative heating) whilst still allowing natural air flow around the sensor.
Sensor Applications:
Meteorology
Feedlot Weather Stations
---
This is just a sample of some of the types of sensors that can be integrated with the SatVUE system. So, regardless of your application, if the communication protocol of the sensor is compatible, the SatVUE solution can assist you!
Contact us today to discuss your application further.